Futaba Inc., Ltd.
Coporate Profille
"Futaba-en: Specialized in the Edo-dye with a history of over one hundred years"
Following its establishment in 1920 (Taisho 9), Futaba-en has inherited and passed on the traditional techniques of the Edo-dye cultivated by the previous generations of craftsmen to future generations. Even in the present-day where the dyeing industry is characterized by mechanization and mass production, Futaba-en nevertheless still acknowledges and emphasizes techniques of traditional craftsmanship. Futaba continues to produce elegant products of the Edo-dye (also known as Tokyo-dye) with exquisitely beautiful fine patterns. The "Edo-komon and Sarasa Exhibition" of printed cotton silk (sarasa) and fine patterns (komon) held in the Japanese embassy in London in 2003 proved the catalyst for the spreading of its activities beyond the boundaries of Japan to the rest of the world. Currently, the scarves made from printed cotton silk and fine patterns are gaining attention and popularity in France.
Accomplishments
2003 – "Edo-Komon and Sarasa Exhibition" at the Embassy of Japan in London
2007/2008 - "Maison & Object" in Paris
2008 – "Cool Japan in Ambiente Frankfurt" exhibition in Germany
Story
In the long history of dyeing, the techniques of dyeing attained its greatest development and improvement in the Edo era. It was then when the central issues pertaining to politics and economy shifted to Edo, and both the commoners and samurai began to enjoy in recreational cultural activities in daily life. Under the strict ruling of the shogunate government, people were unable to indulge themselves in luxury, but a demand for increased affluence became evident thereinafter. Facing with a strong demand from the people, the craftsmen of Edo began working harder to satisfy the demands. As a result, Edo-komon was created: the surface looks plain from afar, but, with closer attention, is actually exquisitely designed with fine patterns. Edo-sarasa was, also, created and is characterized by its middle-eastern roots and exotic brown designs.
Interview
The most important thing to us is to deliver our dyed goods to customers with love and care. We produce our goods individually by artisan methods with this dedicated mentality in mind. Furthermore, our ateliers are fixed with glazed doors so that visitors can see our atelier production process in progress. We invite and hope that our customers visit our ateliers and see the fine techniques and processes of our company. We strive and will continue to do our utmost best to offer our quality products to more people.
Motobumi Kobayashi
Recommendation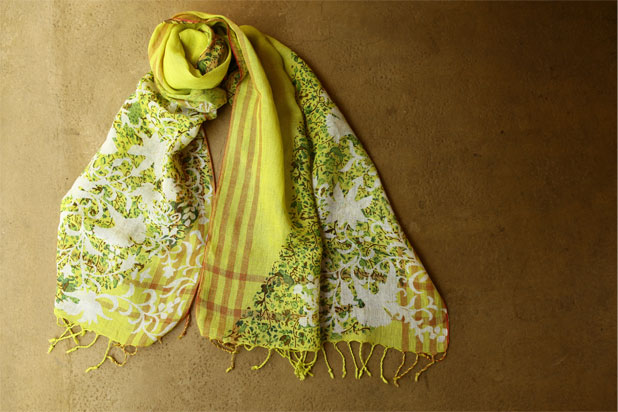 Scarves that made use of the ancient dyeing techniques: Edo-sarasa and Edo-komon. In order to make them look modern using the classic techniques, we tried to produce novelty through the harmony of colours. Also, in order to bring out best of the old classic designs, ancient Japanese striped designs and gradation techniques are used on the edges. The colours used are "classic Japanese vermillion, pink and scarlet", "hyakugun: a kind of blue that brings out the freshness of summer" and "high class jade colour". Our craftsman put in boundless efforts to dye these colours and make them attractive to the eye when put on. The material used is tango silk and Indian silk from the times of trading in Silk Road. We insist on the plumage-like texture and the use of natural materials that accentuate the Japanese seasonal feel. Please enjoy this new world perspective that executes the first collaboration between Japanese tradition and Western feel.
Futaba Inc., Ltd.
URL: http://www.futaba-en.jp/
Address: 2-3-6 Kamiochiai, Shinjuku-ku, Tokyo